goodworks introduce themselves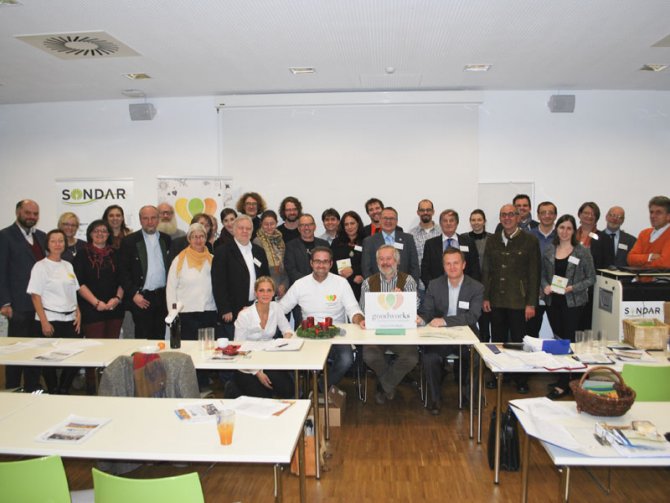 The goodworks Innovation Agency: socio-ecological incentives for economy and society
good stories: Let us narrate them together!
Socio-ecological production is based on the principle of sustainability. The focus is on economical management of resources and the environment, as well as careful interaction with people.
Interest and orders by economic enterprises and public institutions occupy disadvantaged persons with best-possible ecologically and regionally produced products and services conserving resources. All parties participating thus contribute towards a socially balanced society and a sustainable method of production and consumption. Results for the clients are innovative, mostly hand-crafted quality products and services at a fair price. In addition, regional occupation with appreciative working conditions, sensible and individually fulfilling activities are facilitated for persons occupied outside the first labor market.
Together with clients and partners we intend to work on social, ecological and economic innovations. Let us provide for regional and social sites of production and innovation for small and large enterprises, more work(places) for society, for people experiencing different situations in life, and more opportunities to invest in social procurement for the public sector. As goodworks Innovation Agency EEIG we are available for local, regional and international cooperation with immediate effect.
At the time of successful conclusion of the "SoPro HU-AT – socially produced for the environment" ETC project, the goodworks Innovation Agency EEIG have commenced their work. On December 4, 2014 in Tulln this non-profit organization was founded within the framework of a termination and opening event by the BIENE Association (AT, Soil and Bioenergy Network of European Countries), Leed non-profit Kft. (HU) and KOMUNITAS OG (AT). It is the declared target to continue and expand the approach of "socio-ecological production" under the trademark of "goodworks".
good offers – Consultation, development, procurement, marketing
The offers of goodworks reach, as up to now, from consultation and development for enterprises and public institutions, from procurement and marketing of products and services made by social enterprises, from support of sustainable initiatives and start-ups up to international projects, in order to expand and develop further the model of goodworks.
good label – The goodworks quality label of "socio-ecologically produced"
Starting from April 2015, the quality label of "socio-ecologically produced", developed within the framework of this ETC project, is available for economic enterprises, social enterprises and public institutions interested. Innovative high-quality products and services are distinguished by the goodworks quality label, which have been produced and offered, respectively by disadvantaged persons, and which meet ecological and regional criteria.
good impact – Social innovation, occupation, sustainable economic activity and conservation of resources
Socio-ecological production is orientated along the three-dimensional concept of sustainability, and fosters inclusive growth in Europe through the triad of inclusive occupation, conservation of resources and sustainable economic activity. This triggers positive incentives for:
sustainable work: creation of job opportunities for disadvantaged persons
sustainable economic activity: fostering of regional value creation and regional instances of economic cooperation, as well as product innovations
and sustainable consumption: marketing of regional and resource-conserving products and services with a social added value