goodworks certified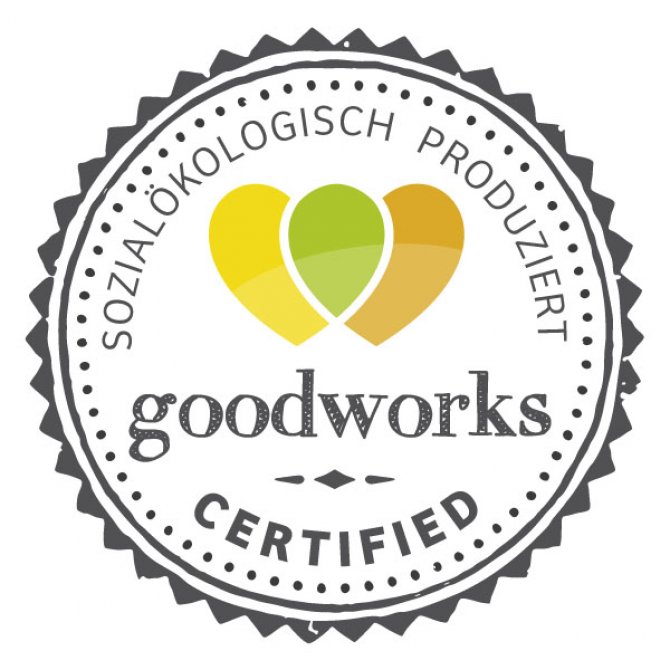 The "goodworks – socio-ecologically produced" quality label distinguishes certified sustainable products and services, which have largely been produced by disadvantaged persons and come up to social, ecological and regional criteria. Economy thus receives a tool of communication of their commitment, as well as increasing market opportunities of their products. For public procurement, social and environment-friendly criteria are safeguarded. Male and female consumers receive products with a "sustainable biography" and of high quality, on which they may rely.
The connection between the different criteria – conserving resources (ecology), produced by disadvantaged persons (social affairs), regional (preliminary products and raw materials from the respective region), of high quality (quality assured) and innovative – render this quality label a unique multidimensional sustainability label. This quality label creates equally awareness of the significance of sustainability, regional economic activity and social balance.
Certification
The fundament of this quality label was developed within the "SoPro HU-AT" 2012-2014 project, subsidized by the EU. Since March 2015, this quality label has been awarded by the non-profit goodworks Innovation Agency EEIG. Economic enterprises and public institutions may apply for this quality label for products and services made in cooperation with social enterprises; social enterprises may apply for their own products and services.
Marketing
goodworks advertise certified products on their website, as well as on the goodworks online market place in the future. On the online market place, certified products are presented in a more comprehensive manner, in order to be able to communicate their biography as well. Furthermore, each newly certified product is presented in the goodworks e-newsletter. Gladly the goodworks team will draft an individual marketing concept for your project and your product. From branding up to photography of products, the goodworks team is your competent partner.
You are interested or have any further questions? >> If so, please contact us!