Austrian Federal Railways (OeBB) 4 IN A LINE – socially produced at the Nova Rock Festival!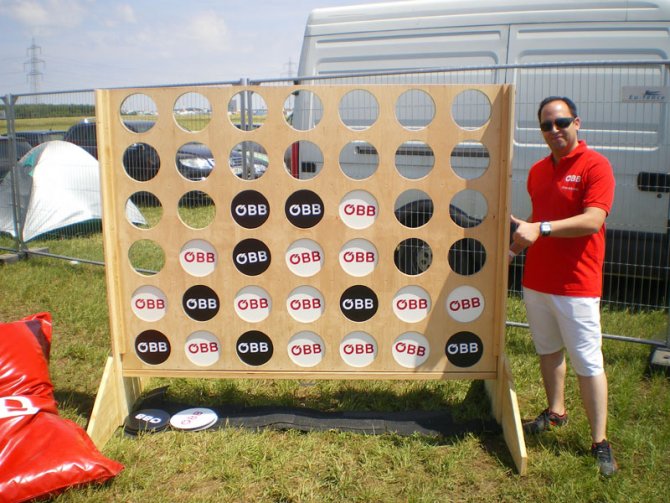 Everybody knows "4 in a line", the strategy game for two persons with the aim to put four of one's own pieces in a line. However, this game with a size of 2.1 by 1.8 meters is new. Gabriel Kotzmann and Karl Lang from KOMUNITAS OG have built the first SoPro prototype of a "MEGA 4 IN A LINE" on behalf of the Austrian Federal Railways.
The frame has been produced of birch ply wood, and the pieces are made of waste materials from the Bene company. On account of exact documentation of production and drafting of patterns (for instance for milling holes), the production of further sets can be transferred to a social enterprise after short training.
The MEGA 4 in a line has already been used twice, for the first time at the Nova Rock Festival from June 13 to 15 at Nickelsdorf, and only recently at the Donauinsel (Danube islet) Festival in Vienna. Both times, the mainly young jury was enthusiastic about the XL edition of this cult game.