NORIS Fire extinguisher GmbH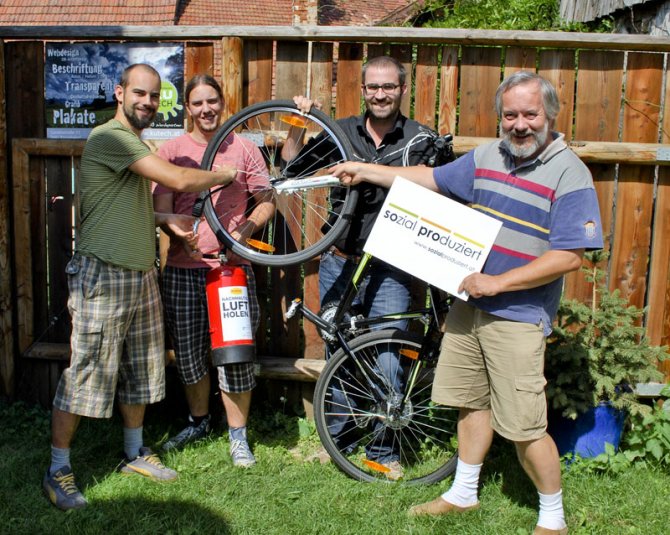 Resource-saving disposal and innovative upcycling of fire extinguishers
NORIS have made their mark with high-quality fire extinguishers, best-possible customer support, and specific working hours for employees as an enterprise with sustainable economic activity. There is still some sustainable potential in the field of disposal of used fire extinguishers. The consulting team of KOMUNITAS OG have not only found an approach towards a solution by Social Production for professional and resource-saving disposal, but also devised a creative upcycling product.
The NORIS company addressed KOMUNITAS OG with their wish to improve the disposal of used fire extinguishers. Per year, several 1,000 pcs of used devices accumulate in this enterprise. As fire extinguishers consist of high-quality materials, which can largely be recycled, a separation insofar as possible is sensible, at least from an ecological point of view.
The consulting team of KOMUNITAS OG came up with two options: On the one hand, disassembling of fire extinguishers by a social enterprise, on the other the development of an upcycling product out of used fire extinguishers.
Professional waste management and disassembling
Regarding waste management and professional disassembling of the fire extinguishers (and also mostly present filling substances), a contact with "Poechlarn Recycling" and Director Alois Hubmann, respectively was established. As there was capacity available at this time at "Poechlarn Recycling", disassembling was basically feasible, and a common attempt at disassembling five fire extinguishers was made successfully. The various contents of fire extinguishers are a challenge. Currently, it is being investigated how they can be professionally treated, and which possibilities of disposal and reprocessing, respectively there are.
The tragical death of the Work Manager of Poechlarn Recycling, who leaves a huge gap in this social enterprise, is the reason that a concrete agreement could not yet be reached.
Upcycling: "Sustainably breathe in air!"
The experiment of filling a discharged fire extinguisher with air was further developed by main developer of KOMUNITAS, Karl Lang, into the idea of an innovative "recycling pumping station" for bikes. It is not yet clear whether this will remain a prototype only, or whether this idea will be implemented. The NORIS company are enthusiastic about this idea, and they will clarify technical details. A contact with "Radland Niederösterreich" was established. A metal-working social enterprise, for instance, could without any problems assume the task of reconstruction of used fire extinguishers into bike pumping stations.