Kerschner environmental service and logistics GmbH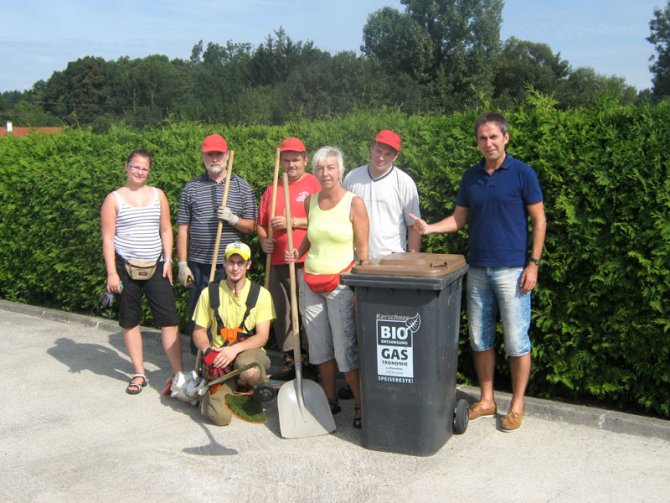 Used truck canvas is turned into bags, possibilities of employment in green space for persons with impairments
The Kerschner company is very interested in new projects for a practical exertion of social responsibility, according to their general orientation and field of activity obliged to the environment and socially committed. This background was a great precondition for the implementation of two harmonious, sustainable social projects.
The Kerschner company, a regionally active and internationally linked disposal logistician, is constantly confronted with waste and with the claims of customers and workers, to try to avoid waste and make use of sensible recycling in every way. This is generally a great challenge, but it also offers manifold opportunities for sustainable products in respect of the approach of "Social Production".
The consulting team of KOMUNITAS OG set themselves the goal, in accordance with the client, to find at least one concrete project of Social Production, which harmonizes with the positive environmental image of this enterprise, and, if possible, does not lead to increased effort in the economic processes of the Kerschner company.
In the course of consultation, two opportunities were considered. On the one hand, to have the large area of the Kerschner company cared for by a social enterprise, i.e. to contract green space care and square management to a social enterprise, as regionally as possible, to the Mank Caritas workshop.
On the other, the focus was on the topic of waste and the products to be gained thereby. At this point, we did not place an emphasis on the large quantities of waste of business enterprises or of the municipal field, although in this field there may be further options. The management expressed the wish to start off with home-made waste of their own company. In a second step, this led the consulting team to the distinctive feature of this enterprise: the trucks, which are on their way in all directions. In a third step, we considered used truck canvas and a possible production of canvas bags, with the thoughts in mind to use them in our own field and as a practical give-away, for instance as Christmas presents of our company.
Area management by Mank Caritas
The idea of assigning the task of area management to the Mank Caritas was met with great interest, because after the loss of a customer there was capacity for another order. The outdoors group of this Caritas workshop started their work already one month after first consultation. The diligent male and female workers have mowed lawns, cut hedges, and cleaned the premises of the Kerschner company ever since twice or three times a week. The Kerschner company as well as Caritas are very content with this cooperation.
Canvas bags
Up to now, no canvas bags have been produced in Lower Austrian social enterprises. Some Caritas workshops in Vienna, however, possess the relevant know-how, and they are willing to transfer this know-how also to Lower Austrian social projects. Implementing something new requires a bit more of patience from all parties participating, as it is also a matter of finding good partners in this field in the long run. Merkenstetten Assisted Living as well as Lilienfeld LIMA, which will close down their sewing room at the end of this year, have not been able to accept this order. After some more research, a social institution was found, namely Kemmelbach Assisted Living, which is interested in the production of bags out of used truck canvas. This project is currently at a trial stage. It has been agreed with the Kerschner company to aspire for the Christmas promotion next year. Then sufficient used canvas will be at hand, and there is time enough for agreeing on model and design of these bags, as well as for planning a reasonable number of items.