Horse chestnut powder as an innovative domestic natural detergent – socially produced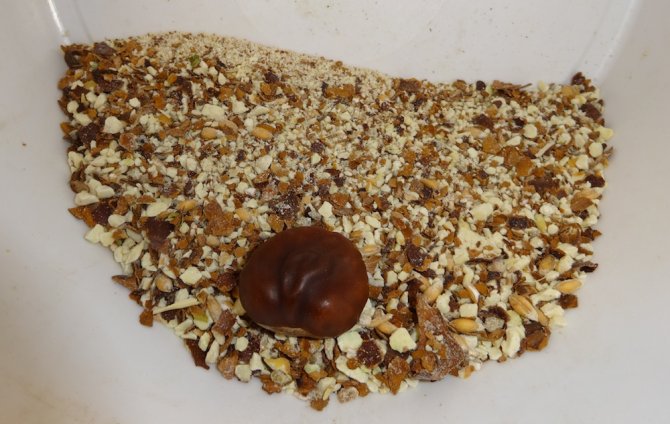 Nature educator Gabriela Nedoma, initiative "nature protects skin", was looking for a professional production of horse chestnut detergent. Horse chestnut powder is a natural detergent, which is currently largely not yet known, thus it is a novel product. Ms. Nedoma needs horse chestnut powder as a showpiece for presentation of the washing effect, and as a give-away for her numerous seminars. Ideally, this powder should also be filled into small bags with instructions for use and labels.
The entire production is performed at Caritas Retz and Unternalb
The Vienna environmental consultants ("die umweltberatung") gained as a cooperation partner for this project the institutions for disabled persons at Retz and Unternalb of the Caritas of the Archdiocese of Vienna with their workshops equipped for multifunctional purposes. This social enterprise is able to perform shredding as well as packing of the powder in their day care centers.
Production comprises more than one work steps
At first, very fine powder is produced from some pounds of horse chestnuts. In addition, at the institutions for disabled persons at Retz and Unternalb, bags are produced from recycled paper. The horse chestnut powder is portioned, and filled into the bags. Common gathering of horse chestnuts in the Wine Quarter (Weinviertel) is scheduled for fall 2015. Through cooperation between the Caritas and nature educator Nedoma, a natural product from this region can be sensibly used for washing laundry in an environment-friendly way. Within the SoPro project, also future cooperation has been initiated.
Contact:
SoPro Consultant: Andrea Husnik "die umweltberatung", , phone: +43 (0)1 803 32 32
Social enterprise: Alfred Strohschneider, Caritas of the Archdiocese of Vienna, institution for disabled persons at Retz and Unternalb, phone: +43 (0)2942 / 3270; www.caritas-wien.at
Economic enterprise: Gabriela Nedoma: initiative "nature protects skin", natural projects and natural seminars, phone: +43 (0)680 2301646, ;
Photos ©: Caritas Retz and Unternalb
Text to the picture: whole and shredded horse chestnuts