SoPro HU-AT: Results and perspectives of a successful cross-border project
"goodworks Innovation Agency" intends to establish socio-ecological production on a regional and international scale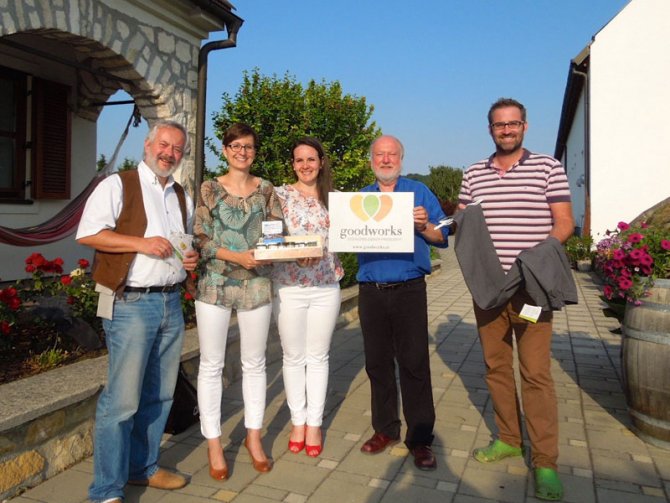 The cross-border project term of "SoPro HU-AT: Social production for the environment" lasted from March 2012 until December 2014, together with partners in Eastern Austria and West Hungary for the development of the consultation and procurement model of socio-ecological production.
Through consultation, development and procurement processes, 200 practical products and services were developed and implemented in the course of 1,200 consultations of and provisions of information to enterprises and public institutions. The majority of the new products contain methods of re-use, upcycling and re-design.
In addition to practical products and services, this project fosters, through targeted media and press relations, creation of awareness in the fields of sustainability and social responsibility of enterprises (CSR). In eight scientific papers (Bachelors' and Masters' Theses, as well as projects by students), students of the Wiener Neustadt UAS, Campus Wieselburg (study course of product marketing and innovation management), of the Vienna University of Economics and Business (socio-economics – consumer research), as well as the UAS Campus Vienna (social economy and social work) dealt with aspects of socio-ecological production. These papers as well as numerous good-practice examples were presented at the 1st International SoPro Congress in with almost 200 participants in Vienna in June 2014.
In November 2014, his project has been awarded the RECOM Innovation Prize in the category of "Economy and Innovation", and was the winner of a placard competition by the administrative authorities on the occasion of the European Cooperation Day.
goodworks: Innovation Agency and quality label
One of the main targets of this project was the creation of a structure, in order to establish this initiative in the long run. At the end of this project in December 2014, the lead partner, BIENE Association (Soil and Bioenergy Network of European Countries), the KOMUNITAS OG (both in Lower Austria), and LEED Non-profit Kft. in Hungary founded the non-profit goodworks Innovation Agency EEIG. Under the trade name of goodworks, the activities of socio-ecological production are continued and expanded.
Also the quality label, developed within the framework of the "SoPro HU-AT" project, for products and services from socio-ecological production, has in the meantime been registered under the trade name of "goodworks". The "goodworks- socio-ecologically produced" quality label distinguishes certified sustainable products and services. The combination of different criteria – preserving resources (ecological), produced by disadvantaged persons (social), preliminary products and raw materials from the respective region (regional), of high quality (quality-assured) and innovative – renders the quality label a unique multidimensional sustainability label.
For the integration of this new quality label into existing plans of action for sustainable procurement, discussions with the authorities responsible have been initiated on all levels.
Contribution to inclusive growth, preservation of resources and regional value creation
Through procurement and support of suitable orders, socio-ecological production strengthens social occupational enterprises in their task of inclusion of disadvantaged persons into the labor market and their participation in working life, respectively.
This initiative, at the interface between social and economic sustainability, facilitates economic enterprises to actively assume social responsibility, and to consciously cooperate with social enterprises. These instances of cooperation yield positive incentives for:
sustainable work: occupation and qualification, and thus gainful employment and social inclusion of disadvantaged groups of persons
sustainable economy: regional value creation, new instances of economic cooperation
sustainable consumption: innovative products, eco-design, preservation of resources
New projects and instances of cooperation
Some plans and projects are being prepared.
In Lower Austria, together with the Economic Chamber a consultation programme for enterprises is being developed
The goodworks quality label and an online market-place for products and services from social production will be presented on October 12 in St. Poelten (invitation to follow!)
In Hungary, goodworks partnerships are being created in other regions
A project for the foundation of "goodworks Romania" has been submitted
A goodworks project for South-East Europe is being scheduled together with the IOM (International Organization for Migration)
The next newsletter will provide additional information regarding these topics. We wish you all a wonderful, hot and still recreative summer!
Legend: Conclusion and new perspectives of good cooperation with the administrative players of the Austria-Hungary ETC Programme. In the picture: Tanja Paar (administrative authorities, RMB Burgenland), Reka-Timea György-Jánosi (JTS Sopron), Walther Stöckl (EU expert) and the goodworks Directors Bernhard Kuderer and Franz Rybaczek