goodworks workshops within the framework of the 22nd Conference of the Working Community of the Danube Regions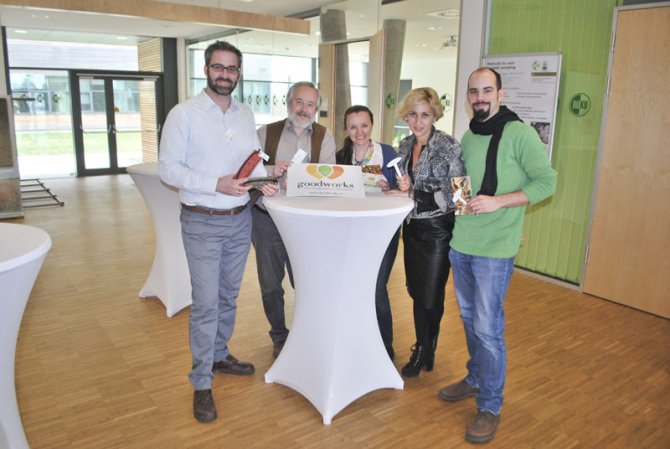 Kick-off event of Romania goodworks
On March 25 and 26, at the Tulln University Research Center (UFT) the 22nd International Conference of the Working Community of the Danube Regions took place. Approx. 80 participants from more than 10 states exchanged experiences and scheduled project steps in the areas of soil conservation, sustainability and socio-ecological innovations within the framework of workshops, and gathered information about current developments during the keynotes of the international lecturers.
The "Economy, Health Care and Social Innovation" workshop, orgainzed by the goodworks Innovation Agency, dealt with current instances of cooperation using stages of development tailored to the participants. This workshop was competently supported by contributions by Christian Weinberger, representative of the European Commission (DG Enterprise and Industry) in relation to future project opportunities.
A project of the bene AG, for instance, was discussed in detail, which deals with re-utilization of used, functional office furniture. Daniela Wagner and Thomas Riegler from bene discussed intensively with representatives of the goodworks team.
Furthermore, Harald Dittrich and Dietmar Klement from the SOCIUS social enterprise, together with Karl Wimmer (RICOH Team Leader Green Center), reported on their practical experience of an extraordinarily positive instance of cooperation with RICOH Austria.
Szabolcs Hollósi from the Hungarian LEED non-profit Kft. and founding member of the goodworks Innovation Agency EEIG discussed, together with his Austrian partners Franz Rybaczek (BIENE Association) and Bernhard Kuderer (KOMUNITAS OG), a basic cooperation and future opportunities of cooperation with Csaba Bolfán from the UTIRO Leader Association, Anna Szerepi (REVITA Foundation), and Attila Suhajda, Hungarian Service and Outsourcing Association, and Szabolcs Pákozdi (National Foundation for Employment).
Practical opportunities of further internationalization of "socio-ecological production" were also elaborated in the fourth workshop team, with Raluca Manaila and Daniela Mihaita from the Romanian organization of "AUR - Asociatia Nationala a Specialistilor in Resurse Umane". Both expert women showed enthusiasm about the idea of goodworks, and intend to promote the foundation of Romania goodworks. Further steps for implementation of this project are being scheduled.